alan little's weblog
a picture a week (8)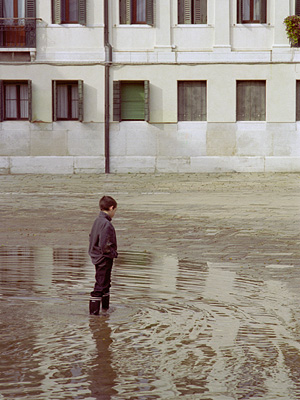 This one is a genuine film scan, shot in 2002 on traditional Fuji Reala on a retro-even-then Nikon FM2.
My first – and so far, only – visit to Venice was with Maria when she was pregnant with our first – and so far, only – child. Being an expectant father changes your perspectives. Venice is fascinating and amazingly beautiful, but it also occurred to me that it must be a lousy place to bring up kids. There are no trees or green spaces for them to play; you can't let them run in the streets for fear they might fall in and drown. Venetians seem to be of the same opinion: the population of the city has halved in the last fifty years.
The few kids who are there are quite photogenic playing in the flooded squares at high tide, though.
related entries: Photography
all text and images © 2003–2008