alan little's weblog
using my pictures
In the last couple of days I've been surprised to see my pictures in places I didn't know they were being used. This one, of my yoga teacher Bettina: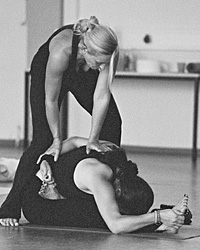 … was being used to illustrate a brochure for course she's teaching in the summer. And of course I would have said yes immediately if the guy organising the course had asked me. I'm a little peeved that he just took it without asking; he's also shooting himself in the foot by using a low-res web image in a printed brochure when I would gladly have given him a higher resolution copy for printing.
The other was when I noticed in my referer log that one of my Indian street photos was being requested frequently from the same website. I looked and sure enough, the guy is using my picture, linked from my server, as the background for his home page. I'm pleased that he likes my picture, but not so pleased that I'm willing to contribute to his bandwidth bill. And he, too, might well be shooting himself in the foot by making himself dependent on alanlittle.org's uptime over the next week or two.
In general, I'm delighted if people like my pictures so much that they want to use them. That's what I originally started alanlittle.org for: I wanted people to see my pictures and hopefully like them. I do find it rude, though, when people use them (and my bandwidth) without asking. It's not as if I don't have copyright notices and mailto: links all over my site.
People wanting to to use my pictures for non-commercial purposes are generally welcome to do so (and by posting them on the web, I've made it impossible for me to stop them anyway). But I would appreciate it if you have the good manners to:
ask anyway
link to me
put a copy on your own server so I'm not paying for the bandwidth
Thanks.
related entries: Photography
all text and images © 2003–2008