alan little's weblog
henri cartier bresson r.i.p.
Henri Cartier-Bresson is dead. H C-B is most famous for his work as a photojournalist in the fifites and sixties. In later life he returned to his first love, drawing, and did much less photography. His later work includes some truly beautiful landscape photography, though, for example this wonderful impressionistic riverscape: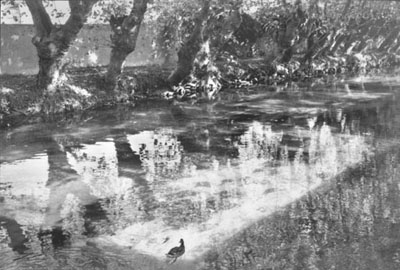 Île sur la Sorgue, by Henri Cartier-Bresson
I've walked along that riverbank. I couldn't have taken that picture. Not because of lack of technical skill – because I wouldn't have seen that there was a picture there. The greats see differently.
Online galleries of Cartier Bresson's work at Magnum, the world famous photo agency that H C-B co-founded in 1949, and here where prints of his work are for sale. (I haven't enquired about the prices. I suspect I wouldn't like it if I did). henricartierbresson.org appears to be grosssly overloaded at the moment, which isn't surprising.
related entries: Photography
all text and images © 2003–2008