alan little's weblog
pictures of jack
I was thinking of having a "Photo Of Jack Of The Week" section in my weblog; but then I thought about it and realised that doing regular jobs on a repetitive schedule is not one of my strengths (ask anybody who's ever worked with me), so "sporadic photos of Jack whenever I happen to feel like it" is what I'm going to do instead. Here's one of my recent favourites, which also happens to be one of the very few photos of me that I really like. (In my experience it's generally much safer to be the one behind the camera).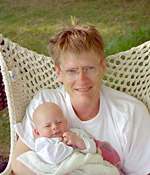 That one was taken on a cheap & basic Yashica 35mm point & shoot camera - albeit one that is actually something of a cult among photographers for being a cheap & basic point & shoot camera that just happens to have a world class Zeiss lens.(*)
In the interests of science, let's unfairly compare that to another picture very similar in its subject matter and composition and taken by the same photographer (the number one woman in Alan and Jack's lives), but on a rather different camera - namely, a telephone.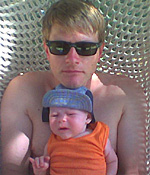 Here's what I see: the Nokia picture as it comes from the camera isn't very sharp. It sharpens up surprisingly nicely in Photoshop, but even at this size it still clearly isn't as sharp as the real photo. The exposure on the skin tones is absolutely spot on, but the sunlit part of the hammock on the left is burnt out. The colour balance is way too blue/magenta.
The combination of quite possibly the best lens ever put in a cheap camera, with the world's finest-grained colour portrait film, gives the Yashica picture somewhere in the region of fifty times more effective resolution than the Nokia's awe-inspiring quarter of a megapixel. I could get away with printing the film image at 12" x 18"; I'd be pushing my luck at 2" x 3" with the picture from the Nokia.
But the phone reception on the Yashica is lousy; whereas the Nokia definitely the takes the best pictures I've ever taken with a telephone.
(*) Yashica doesn't make the T4 any more, and a quick ebay search shows them going for roughly double what I paid for mine, used, five years ago. Should've bought more than one.
related entries: Photography
all text and images © 2003–2008