alan little's weblog
january snow
I don't claim to be a meteorologist, but I've lived in Bavaria for ten years, and had an active interest in snow sports for five of those ten years, and I've noticed what seems to be a fairly typical weather pattern.
Namely: there are often one or two big snow dumps before Christmas – I spent a fun day hiking in one of them at the beginning of November last year – but then January is generally cold but dry, with the really big snowfalls of the year coming later in February & March. This year has been typical: while northern Europe and the southern and western Alps (and the US too, so I gather) are under heaps of snow, here in the middle we had only a couple of very light snowfalls.
What this means, for early season skiing and snowboarding in the Bavarian and Austrian Alps, is a lot of on-piste scraping around on cement-hard artificial snow; off-piste thumping and bashing your board over snow cover with not much depth and lots of sticks & stones (my board is currently in the shop for repair of couple of nasty holes).
You generally can find some decent snow, but exactly where is very variable, depending on the exact weather and the local terrain. Last January I was in Gasteinertal, and the good snow tended to be in sheltered runs lower down in the trees; this year I was in the Zugspitz Arena, further west and a little lower down, and in those ski areas the decent snow was mostly higher up.
For quasi-local snowboarders like myself, spending the early part of the season on on rock-hard pistes isn't fantastically much fun, but it's good technique training and a warm-up for the proper snow later in the season. If you're traveling from far away for your only ski or snowboard trip of the year, though, you might be well advised to plan your trip to Austria later in the season, or go to Italy or France (or Scotland, this year) instead.
related entries: Snowboarding
Ehrwald, Biberwier, Lermoos ☆☆☆
| | |
| --- | --- |
| Times visited: | six |
| Last visited: | January 2010 |
| Rating: | Good |
The ski areas of Ehrwald, Biberwier and Lehrmoos are part of the "Zugspitz Arena", a group of smallish ski areas in the Loisach valley south west of the Zugspitze, just across the Austrian border from the Bavarian resort town of Garmisch-Partenkirchen. I just spent a few days there, traveling from Munich on a ski school bus with my family. (The normal advantages of bus versus car travel, from the perspective of the car driver, apply).
I was impressed. The valley, with the Wetterstein range to the north and the Mieminger range to the south, is spectacularly beautiful. I had driven through it many times, for example on the way to bigger and more famous ski resorts like Serfaus and St. Anton, but never stopped before. Now that I did, I discovered that the ski areas are good too – highly recommended for beginners and families with kids. If you're skiing with kids and/or of modest ambitions yourself, you don't necessarily need big famous ski areas on huge mountains.
Ehrwalder Alm
Ehrwalder Alm is a small ski resort oriented to kids and families. It has some of the most spectacular scenery of any ski resort I've ever been to, being situated directly in the valley between the south face of the Wetterstein and the north face of the Mieminger Alps (I noted some excellent looking possibilities for summer trips in the Mieminger with my wife). The runs at Ehrwarlder Alm are shortish but pleasant, including the token "black" run that every ski resort feels it has to have – this, despite being pleasant and not too hard, had almost nobody on it, so my wife and I spent an enjoyable couple of hours one afternoon doing laps on it.
Drawbacks of Ehrwalder Alm: the (otherwise rather nice) blue run back down to the valley gets very crowded in the afternoon – slalom around groups of ski-school kids who you really don't want to hit. The restaurants are few, mediocre and overcrowded. And the only way to the top half of the resort is via an old, slow double chairlift. This has quite a steep exit ramp that tends to be frequently blocked by fallen beginners, especially in the afternoon when the snow has got a bit bumpy.
Biberwier
Biberwier is a very small ski area - basically one quite long run (800 metres of descent), plus a little plateau at the top of the hill with a couple of draglifts that were closed when I was there because of insufficient snow. As with all ski areas where I have only been once, my perceptions are greatly affected by how the snow was that day, which in the case of Biberwier was pretty sparse and stony in places on piste. But while I was there it snowed for a couple of hours and there was some thin but rideable powder by the side of the piste; I spent my day happily going up and down that.
The Sunnenalm restaurant at the top struck me as one of the nicer ski area restaurants I have visited, although this may have been helped by the fact that hardly anybody was up there.
Apart from being small, Biberwier has one major drawback, namely: the only way to the top half of the mountain is an old, slow and freezing cold double chairlift.
My wife was generally underwhelmed by Biberwier; I found it utterly charming and would definitely go there again – albeit only right after a big dump of snow.
Lermoos
Lermoos is the largest of the three areas. It has lots of good beginner and intermediate runs, but there didn't appear to be all that much for the ambitious. (We were there with two other families with small children, so "ambitious" didn't apply to us anyway[*].) It is, however, north-facing, and the early season snow was pretty hard and nasty in the afternoon.
There's no single ski area in the Zugspitz Arena that would be interesting for anybody except an absolute beginner for more than a couple of days, but since all the little ski areas – there are a couple more that I haven't been to – are close together and linked by buses, the area as a whole would certainly be viable for a week's family holiday.
[*] Although this will be my six year old son's third ski season, and I have the feeling that by around the end of the season, "ambitious" for me might well mean "keeping up with him on the piste, just about".
related entries: Snowboarding
alps 4, alan 0
This year I've been spending more time in the mountains than I have for a long time, and enjoying it immensely. Part of spending a lot of time in the mountains safely is knowing when not to push your luck. ("Go to the mountains, don't get up shit, but also don't die, and you can call it good", says Rock & Ice magazine) But I'm starting to get the feeling my luck may have been a little too un-pushed lately. Let's see:
March: my first ever snowboard tour, on some mountain I forget the name of. With my friends Pete & Mike on skis. I learned that walking up a mountain on snowshoes, carrying a snowboard, is a lot less efficient than skiing (assuming one can ski, which I can't). And: neither snowshoes nor snowboard boots turn out to be much good for the last few metres of steep snow to the summit of [whatever it was called], which Mike danced up in his nice stiff ski mountaineering boots. Pete kindly stayed behind to look after me. Still, that was just the top bit; otherwise a fine day out with friends.
May: first big hike of the season with Mike. The idea was a traverse of the Arnspitze chain, involving some scrambling/easy climbing that looks (we hoped) a lot more impressive than it really is. But we came to a short, steep bit with nasty fall potential down a gully, and we weren't sure if we were on-route, and Mike was tired having already bivvied on top of another mountain the night before (whereas I got the first train down from Munich in the morning) so … another good but shorter than envisaged day.
Fast forward to July, and the weekend of the annual race up Germany's highest mountain, the Zugspitze. This event has a reputation for epic weather; I should have known planning a trip on the same weekend was a mistake. But my son was away staying with friends, so I planned a trip at the other end of the Wetterstein range with my wife, staying overnight at a hut and then on a klettersteig – steep scrambling, but with safety cables – up the Dreitorspitze. The Zugspitze fell race weekend lived up to its reputation: pouring rain below two thousand metres, heavy snow above. We decided to go anyway – weekends where the two of us can do something together without our son are rare and precious. Maria enjoyed the hike up to the hut, mountain walking in foul weather being a new and stimulating experience for her. (For me, having grown up hiking in the British mountains in British weather, less so). On Sunday the weather was fine; but fine weather or not, you don't take klettersteig novices up things that look like this: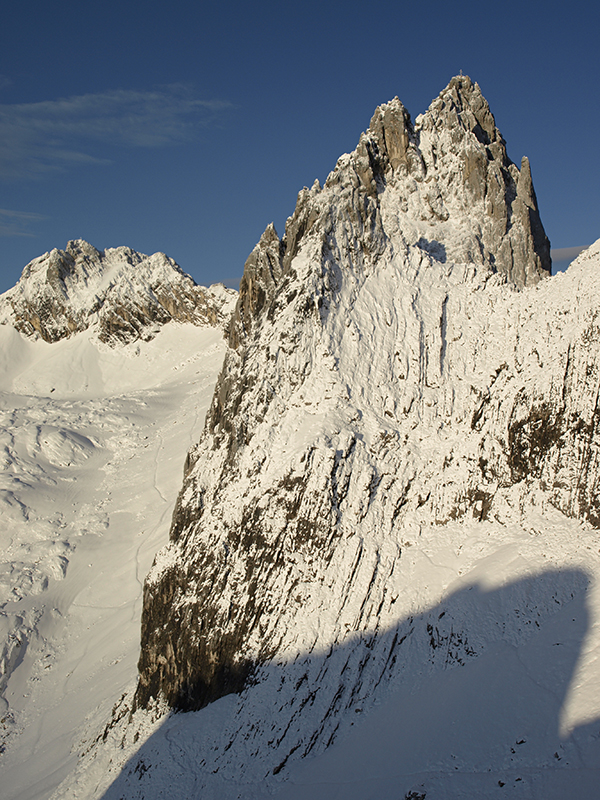 Partenkirchener Dreitorspitze, July
August: perfect weather, and I nipped out for a solo day on the Grosser and Kleiner Waxenstein. Zugspitze range again – it's less than an hour's drive from Munich and very scenically impressive. If you stay away from the overrun-with-tourists Zugspitze itself. The Waxensteins are actually right next to the Zugspitze, and the car park at half past four in the morning was heaving with people. On the other side of the mountain from the Zugspitze Autobahn, however, I saw nobody except a few chamois until I was heading down the hill in the afternoon. Heading down the hill having, however, discovered that my current level of practice and training isn't up to unroped easy rock climbing in isolated situations.
Coming up later in August: another big day out with Mike, and an ambitious solo overnight trip (my first mountain overnighter for a long time), both in the Karwendel Alps. Let's see how the whole Discretion-Valour thing goes with those.
related entries: Snowboarding
snow white
Pretty much as soon as I moved to Munich ten years ago, I realised Bavarian beer was superior to the English stuff I grew up on and clearly the best in the world.
It took me until this year to appreciate that the neighbours aren't too bad at it either. As my wife and I have been spending more time in the mountains, one apres-ski activity we've taken to enjoying is trawling Austrian supermarkets for obscure local beers to sample and take home with us. Schladminger Bier, for example. We discovered Schladminger Bier last weekend whilst showing the Alps to some friends of my wife who are visiting from Moscow. A great time had by all, including dinner on Saturday evening in Hotel Matschner in Ramsau, where they had a superb weizenbier (wheat beer).
From the label it appeared to be local, and my wife thought the beerglasses were cute and wanted to buy one. She asked the waitress, who asked the hotel manager, who wasn't sure. So, at nine o'clock on Saturday evening, he called the wife of the brewer (who turned out to be in the very next village). Of course, she said, give the lady a glass.
So I am now morally obliged to advertise her husband's beer on my blog. I hereby unreservedly advertise the Schladminger Brewery, especially their wheat beer "Schnee Weisse" ("Snow White"), and also Hotel Matschner in Ramsau. Nice people, good food, outstanding beer.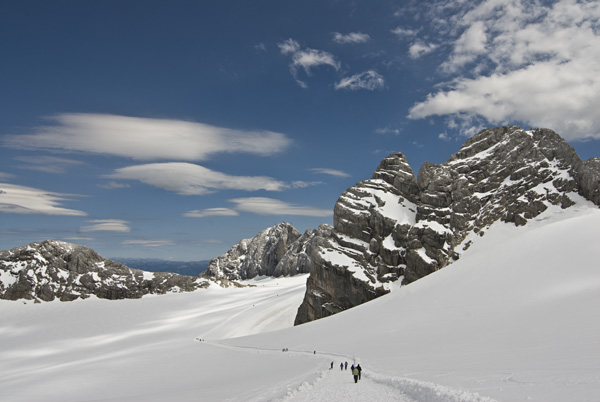 You don't have to go to 2,700 metres on the Dachstein Glacier to enjoy Schladminger Beer. But should you want to, it's available at the mountain hut just to the right of this photo. The weizenbier was sold out on Sunday; the other Schladminger beers turned out to be good too, although the weizenbier is definitely the star.
snappy snaps
Some things the internet doesn't know yet, as I mentioned to fellow bloggers Brian Micklethwait and Michael Jennings (blog even more moribund than mine) whilst lunching with them in London last Sunday.
My pro photo lab episode at home in Munich ended in tears as a result of a defective usb stick (mine, not the fault of the lab in any way), resulting in me urgently needing to get large, high quality digital prints done in London on a Saturday.
Googling revealed no pro labs in central London that appeared to be open at weekends. (Lots of pro labs used to be open at weekends, to enable Saturday's sports and theatre photographers to get their pictures into the Sunday papers. Not any more, apparently.) I didn't want to take my precious work of art to some random one hour print place. So what to do?
What to do, I figured out, was go to a pro camera shop and ask the people there what they would do. Calumet on Drummond Street is big, reasonably central and open on Saturdays, so off I went. "Snappy Snaps on Wardour Street", the young lady there said immediately. "Don't be put off by the name; they're franchises and they're all different. He's good."
Indeed he is. The place has a fresh looking coat of Snappy Snaps bright yellow on the front, but apart from that it looks and feels totally like a professional lab that's been serving the Soho journalist trade for decades. It has The Smell. The price list prominently features the correct now becoming obscure items like medium format film and slide processing. I start talking to the guy about profiles and proofs for large format digital printers, and I strongly suspect he's the old school film guy, because he quickly calls a young lady over to deal with me. She fires up the Mac – no Windows PCs here, another good sign – and helps me choose which of the various versions of my file are going to look best on their printer. The prints, collected the next morning, are great.
"Ah, but now you'll blog this, and then the internet will know it" Brian pointed out, correctly.
related entries: Photography
smelling the past
They say smell is the most evocative of the senses.
I've given up on trying to print my own photos on an inkjet at home. I'm not going down the full Ken Rockwell Luddite road. I don't doubt for a second that it is possible, by investing large amounts of time, and careful attention to calibrating and profiling everything, to get spectacular prints out of today's high end inkjets. Michael Reichmann is no fool, and I've seen marvelous inkjet prints in exhibitions by world famous photographers like Andreas Gursky and William Eggleston.
But you have to be willing to put in the time and effort, and I have other priorities at the moment. I was getting increasingly unhappy with my Epson R800. It only had one big flaw: murky green-tinged skin tones in shadows. But the vast majority of photos I want to print these days are pictures of grandchildren for grandmothers, so a major flaw in skin tones is a fatal flaw. I downloaded different printer profiles, I spent hours staring at soft proofs in Photoshop. Problem not fixed. I stopped using the printer a year ago and switched to online print services; last month I finally sold the printer.
But last week I wanted something bigger and fancier than a run of the mill online print as a birthday present for my mother. Admittedly still grandchildren. But a big, top notch print of the grandchildren.
Quick googling revealed that the Munich pro lab I used to use back in the days of film is still going, albeit under a new name and at a new location that is less convenient than the old one, but nicer.
I walk through the door, USB stick in hand, and bam! That pro lab chemical smell is still there, just as strong as it ever was. Some professionals are still using film. I knew that anyway, intellectually, but I hadn't set foot in a real lab for a long time and I wasn't expecting The Smell to still be there. It took me back to my first few years in Munich. I was single then, working freelance, traveling a lot. I was in my first flush of enthusiasm for both photography and yoga.
My life is very different now – still good, but different. It surprises me that just walking through a door I had never walked through before, and smelling a smell that used to be associated with a major part of my life, can trigger such a big wave of nostalgia.
related entries: Photography
the boys were back in town
I surprised a colleague a while ago. He mentioned that he was going to hear [Irish blues/rock guitar legend] Gary Moore. Oh, I said, I haven't seen him for a long time. Second time he was in Thin Lizzy, it was. About '78 or so. What? he said. You're older than you look. Me smug.
But what I had completely forgotten was just how good Thin Lizzy were on stage in those days. Some of the music I liked then embarrasses me now, but not this:
I saw this Thin Lizzy incarnation at about the same time in Leicester's De Montfort Hall, not open air in Sydney Harbour. But hey, same band, same music. Thank you, youtube, for giving me a fond boyhood memory back.
I'm only just starting to appreciate the extent of the music that is on youtube these days. Could be a dangerous time-eater. So let me save you a bit of time: there's lots and lots of Thin Lizzy live footage on youtube. This, however, is not only a stunning performance but also has by far the best sound quality.
Thin Lizzy had quite a lot of personnel changes. This video isn't the arguably Classic Lizzy Lynott-Gorham-Robertson-Downey lineup. If you want to hear that version of the band on equally impressive live form, then you need this 1975 live album available on emusic. Forget the studio albums.
I don't expect everybody to appreciate rock music as an art form, but if you do, do yourself a favour. Listen. This is how it's done.
related entries: Music
goodbye guruji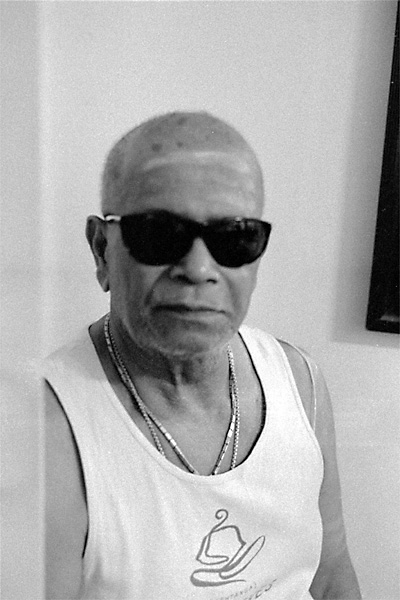 Sri K. Pattabhi Jois, 1915 – 2009
Yoga teacher Sri Krishna Pattabhi Jois, "Guruji" (dear/respected teacher) to his many admiring students, passed away yesterday in Mysore at the age of 93.
Guruji was a great teacher and an inspiration to many, including me. I think perhaps his greatest achievement wasn't the last thirty years of steadily increasing fame and student numbers after western students discovered him and his teachings; it was the thirty or more years before that, when he kept a precious and wonderful form of yoga practice going more or less single-handed in utter obscurity until the wider world was ready for it.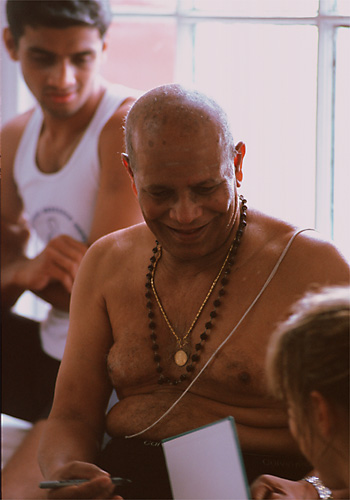 Guruji in New York, July 2000
UPDATE:Michael Smith links to some newspaper obituaries
related entries: Yoga
clawed by the leopard
I didn't upgrade to Mac OS X 105 "Leopard" when it came out – I read enough horror stories about it being a mini-Vista, the first major OS release of recent years where Apple really screwed up and broke a lot of things for a lot of people. After a while and a couple of maintenance releases, I assumed it must be stable and largely working, but I still couldn't see that it offered anything new and compelling to justify the expense, hassle and risk of an upgrade.
And, as it turns out, I should have stayed right there. Unfortunately, however, amazon.de was offering a good deal on the Mac Box Set Family Pack, and I was thinking I might be in need of a clean Leopard install disk for a couple of things I have in mind, so …
I've been using Mac OS X since 2002. I can't remember if I started on 10.1 or 10.2, but in any case I made it to 10.4, and then up to patch level 10.4.11, without any of the upgrades encountering the slightest glitch. This is why people buy computers from Apple. 10.4 to 10.5? Glitches. Great big nasty glitches.
My mail disappeared. Getting it back turns out to be a simple matter of just temporarily moving a couple of files, but still. My mail. Ten years of people's addresses. Probably the most irreplaceable thing on most people's computers. My trust and confidence shattered immediately by the first thing I look at. I have a fairly recent backup (yes, I know, I should have had a backup from right before the upgrade. But my previous experience with frictionless Apple upgrades has evidently made me not paranoid enough.) How could they still have a huge bug like that 10.5.6? This genuinely surprises me, and makes me I'm sure less tolerant than I otherwise might have been of the the other little glitches and irritations that follow.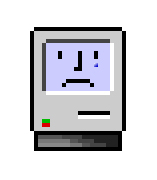 403 Forbidden, says Safari when I attempt to access my local working copy of alanlittle.org. Half an hour's googling later – half an irreplaceable hour of my valuable life wasted, thank you so much Apple – I learn that following these instructions changes the error message, but doesn't fix the problem. Following these instructions does fix the problem, and is simple as long as you're not afraid of a command line and a text editor. Many people are, however, and Apple's programmers (who aren't) could easily have taken care of this automatically if they could have been bothered. It's caused by the fact that 10.5 uses a later – and presumably better, it's ten years since I was last well-informed about such things – version of Apache, and the new version needs to be configured differently. Fair enough. Would it really be beyond the bounds of Apple's developers' ingenuity to notice that one is upgrading an existing installation, and create the one file needed to make this work?
Cmd+> (Apple key and "less than" sign) doesn't tab between different windows in the same application as it used to, and is supposed to, on German Mac keyboards. In some applications – web browsers and text editors for example – this is crippling. I can turn it back on by editing the keyboard shortcuts in System Preferences, but I shouldn't have to. The machine knows it has a German keyboard, and it was working properly before.
My 3G wireless connection software is suddenly much slower and flakier at detecting the phone. I often have to reboot the phone. Having finally established a connection, the connection manager then often, but not always, runs at 100% cpu, spinning up the fan loudly and eating battery capacity. Not Apple software, I know, but it worked perfectly well before and now it doesn't. UPDATE: connecting works fine as long as I ensure the software is running before I plug the phone in. Still rather far from Just Working.
Choosing English as the installation language doesn't make English the default system language. Nor does having had English as the default system language before the upgrade. At least not consistently. Applications I already had before the upgrade still seem to appear in English; new ones come up in German until I go into System Preferences (or, sometimes, "Sytemeinstellungen") and switch my preferred language to English there too. A small thing, but irritating, especially when all the previous things have already shaken my confidence and patience. And Apple are supposed to be about getting the small things right.
Leopard refused point blank to install on my desktop Mac, a perfectly adequate and smoothly functioning three year old G5 Powermac. Having been through the experience on the laptop, I can't say I'm sorry and have decided to leave my working system well alone.
On the not-broken-but-different front: some things seem a bit slower, most things feel a bit quicker. Icons are generally larger, more 3D and brighter, which I find loud and dislike. There was never anything wrong with little flat grey folders. Fonts are generally bolder and more contrasty too – something improved in the rendering? – which I found a bit jarring at first, but after a day I like it already. Icons bounce in the dock in a more staccato, less fluid manner that pisses me off. We really are nitpicking now. I don't like the translucent menu bar at first, but after a few minutes' googling after hacks to fix it, I conclude that the hacks don't seem that good, and lots of people seem to think one gets used to the menu bar after a while, so I'll leave it for now.
All in all, a considerable amount of hassle for insignificant gain. I really shouldn't have bothered.
UPDATE: Tim Bray is singing the Mac upgrade blues too.
related entries: Mac
eggleston
I decided I needed to broaden my photographic perspectives, and a friend of my wife who was visiting us noticed that the Haus der Kunst has a show at the moment by William Eggleston. This seemed like the ideal opportunity: Eggleston is a very famous and much admired American photographer and not a Magnum photojournalist. I've seen bits of his work in books before, not much, found it quite interesting. The pictures on the exhibition webpage were good. So off we went.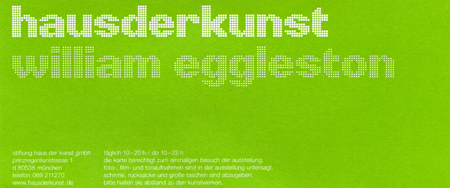 And, hmm. Not for me. I can see why some people admire this stuff – there's a kind of striving to look effortless and casual, taking pictures of nothing much, actually sneakily involving immaculate composition and superlative printing technique. Result: flashes of brilliance amidst a sea of "why did somebody bother exhibiting that?"
There's a whole bunch of these "spontaneous", "informal", highly-rated-by-lots-of-people(*) American art photographers – Robert Frank(**), Gary Winogrand, Eggleston, Lee Friedlander – whose work I just don't get. Clearly I'm too British, starchy and formal. (Joel Sternfeld, often spoken of in the same breath, I do very much get; he's great.)
One of the things Eggleston is famous for, that museum curators still like to bang on about, is being one of the first people to do "serious" "art" photography in colour. So what? There's a certain type of arts person still obsessed with fighting the New York art clique wars of their youth. Get over it. It was half a century ago; there's no reason to care any more. It doesn't matter what was controversial then; either the stuff is still interesting to look at on its own merits now, or it isn't. And it very definitely is. It doesn't speak to me, much, but I can see why it does to a lot of other people.
Eggleston himself clearly isn't too hung up on particular media and technologies. Most of the major photographic printing techniques of the last half century are here. In the sixties and seventies he was evidently a big fan of the horrifically complex, obscure and expensive dye transfer process. There are lots of conventional colour and black & white prints, and – some of the most interesting pictures in the show, for me – some big, recent inkjet and Lightjet digital prints of older negatives, both colour and black & white. A couple of b&w portraits – not at all the sort of thing Eggleston is famous for – impress me very much indeed.
In the interest of further thwarting my perspective-broadening, the Versicherungskammer Bayern's next exhibition after Magnum's First is, once again, Magnum founder George Rodger. I could always not go – in the interests of avoiding having my perspectives kept narrow. But I think I most probably will.
(*) Michael Blowhard, for whose opinions I have a great deal of respect, wrote here about his admiration for Lee Friedlander.
(**) Not American, but famous mainly for photographs of America and generally said to be hugely influential for/by lots of famous American photographers.
related entries: Photography
magnum fanboy
The Versicherungskammer Bayern(*) is hosting a cool photo exhibition in Munich until May this year – Magnum's First. If you're in town, go. It's free.
(Let me know via the mail links provided, and I'll go with you. I already told my wife: if she loses track of where I am any time in the next couple of months, this is where to look first)
It's quite a small, low-key show, but there are some great pictures. It's interesting from a historical perspective too. According to the exhibition notes (here in German), although Magnum was founded in 1947, exhibiting prints in galleries was against the members' anti-elitist ideals. Instead they focused on getting their work published in magazines – the main mass-circulation visual medium in those pre-TV days. This, their first group show eight years after the agency was founded, toured galleries in Austria in 1955. It was apparently such a low priority for them that they didn't bother retrieving the prints afterwards. They were found in a box in the cellar of a gallery in Innsbruck over half a century later – I would like to have seen that gallery owner's face – and are now on tour again.
And the pictures: not by any means, in my opinion, wall to wall masterpieces of amazing genius. A few really stunning pictures, also a few pictures where I ask myself why s/he chose to exhibit that. They may not have exhibited much before, but these were established, famous photojournalists publishing regularly in the biggest magazines of their day, not some bunch of inexperienced unknowns. Interesting juxtaposition, both subject matter and style, of Henri Cartier-Bresson's pictures of Gandhi just before his assassination, and the funeral, with Ernst Haas' stills from the shooting of Howard Hawks' Land of the Pharaohs. One of the momentous events of the twentieth century, right next to something as trivial as stills from a film set. But what stills from a film set. A couple of Cartier-Bresson's Gandhi pictures are really lovely; with some of the others I'm wondering, if I didn't know they were by Henri Cartier-Bresson, would I still be standing here trying to convince myself I can see some kind of subtle compositional magic about them. Or, in other words, why did he choose to exhibit this one? In Ernst Haas' pictures the compositional magic is far from subtle – they're every bit as good as Cartier-Bresson's, but in a way that's much more formal and obvious, and seemingly far easier for my simple visual mind to grasp.
(Some fall on stony ground. I grasp the Cartier-Bresson pictures as an opportunity to explain to my nearly six year old son who Gandhi was and why he was important. A quarter of an hour later I check if any of it went in: "Would you like to explain to Mama who that man was?" "He was the greatest Indian man" "And why was he great?" "Don't know". Oh well. Try again another time.)
As part of the exhibition the Verischerungskammer is also showing a BBC TV documentary from 1989 about the history of Magnum. I didn't have time to watch this at the weekend. (Or rather, my son didn't have the attention span. "What was it about, Jack?" "Lots of blah blah blah in English".) And so far I haven't been able to track down any other means of getting to watch it. I resent this. I paid for it – in 1989, and for many years before and after, I was a BBC licence fee payer – so I'm entitled to see it. It should be streamable or downloadable from a BBC website somewhere, or at least available to buy on DVD. I couldn't find it on any of the BitTorrrent search engines either, so it looks like I'll just have to go to the exhibition again and watch it. Worse things happen though; the Versicherungskammer even provides free coffee.
For once the print quality of the exhibition catalogue is good.
After the exhibition, my wife and her friend wanted to go out and talk girl talk in Russian, an activity to which I am woefully ill-equipped to contribute. So I took our son home and put him to bed. And, before going to bed myself, I though I'd put a book or two by Magnum photographers out for my wife's friend to have a look at. Just one or two – but which ones? It turns out that the majority of photography book collection is by Magnum photographers. No problem, then, finding a couple of books to put on the table – but perhaps I need to think about broadening my perspectives a little?
Retro-photo-blogging: I visited Magnum's fiftieth anniversary exhibition in Berlin in 2000, thought that "If I could only look at one photography book for the rest of my life, [Magnum Landscape] is the book I would choose" – it still might be – and was bowled over by the work of former Magnum president Raymond Depardon.
(*) Bavarian Insurance Chamber of Commerce
related entries: Photography
stubai revisited
The Stubai Glacier, revisited eight years almost to the day after my last trip there, turns out to be much as I remembered it. I can see now, more so than I used to, why some people don't like the exposed, bleak terrain and the lack of trees and traditional wooden Alpine huts to have lunch in. It was damn cold up there too. You never know in late March. I planned to go the the glacier because snow conditions at lower resorts can be very unreliable and unpredictable late in the season. The last time I was in Stubai at this time of year, the snow up on the glacier was fine but the run down to the valley at 1,750 metres was distinctly soupy. This year March has been cold and there was cold, dry, fresh snow in the valley all the way down to around 1,000 metres; probably most Austrian ski resorts still have decent conditions. Which at least meant that up on the glacier was quiet. We had to make an emergency stop at a ski shop to get one of those neoprene face masks for my son, who was suffering from the icy wind on the highest lifts and runs, but after that we were fine.
Anyway, you don't go to a glacier for scenery & atmosphere. You go there because nothing has thawed since October. Because, as the landlady in your bed & breakfast explains, every centimetre of snow that falls stays. You go, in other words, for powder. And the powder was great. I didn't go far off piste on my own, but in Stubai you don't need to – there's plenty of great snow right under the lifts and between the pistes where you can get that amazing flying feeling where your snowboard isn't resting on the snow, but floating through it. Which, as I explained to my wife, is what you bought a snowboard for in the first place. Pistes are just for learning.
I found a nice little game to play with my son, too, to start getting him used to his first off-piste turns: slaloming round the piste edge markers. Just one turn in the deep and/or bumpy stuff isn't too challenging, then back onto the piste. Turned out to be good training not just for him, but for me too – for example practicing that awkward powder-to-piste transition where I always used to fall over, but don't so often any more.
Stubai from Munich has the added benefit of being only a fraction over two hours door-to-lift. If you go the direct way over the mountains; if you're lucky with the traffic and can take advantage of the fact that the A95 from Garmisch-Partenkirchen to Munich is one of the few remaining autobahns where "no speed limit" still actually means you can drive fast.
related entries: Snowboarding
Alpbach ☆☆
| | |
| --- | --- |
| Times visited: | twice |
| Last visited: | March 2009 |
| Rating: | Decent, worth a visit |
Alpbach isn't, by any objective standard, a great ski area. It's not very big. There are a couple of quite long and interesting red runs down to the valley, but otherwise everything is pretty short. Snow conditions aren't particularly reliable and have been ok but not great both of the times I've been there.
But. We spent a week there last year, another week this year and we've booked to go back next year.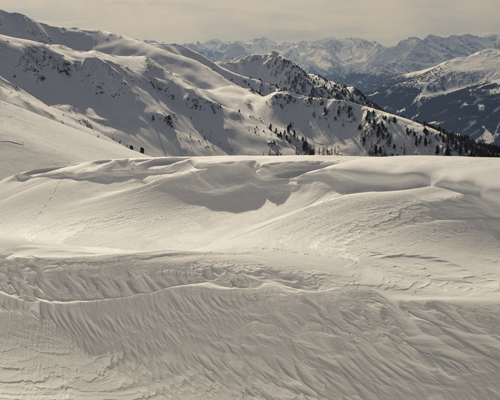 Alpbach snowscape, Austria, March 2009.
It's a nice place. Alpbachtal is a beautiful valley, and very pleasantly laid back by Austrian ski resort standards. If you're not looking for jumping nightlife, the two villages in the valley are much friendlier places to spend time than a big heavily commercialised resort like Mayrhofen in the next valley over, even though somewhere like Mayrhofen might objectively have much more and better skiing.
related entries: Snowboarding
Mittenwald / Kranzberg ☆
| | |
| --- | --- |
| Times visited: | once |
| Last visited: | February 2009 |
| Rating: | Quaint |
I couldn't honestly recommend Kranzberg as a snowboarding destination but, should one happen to find oneself in the area, there's a fun afternoon to be had there. I was in Mittenwald last month for a friend's fortieth birthday party, and spent a very pleasant Sunday afternoon on the Kranzberg.
Mittenwald is a Bavarian mountain town, famous according to the tourist brochures for violin making, situated between the Wetterstein and Karwendel Alps. The Wetterstein and Karwendel are steep, rocky, heavily protected in the case of the Karwendel by National Park status, and almost entirely unsuitable for skiing. But almost every Alpine town manages to find some ski possibilities somewhere. Mittenwald has the Dammkar: a single ski run dropping well over a thousand metres from the top of the Karwendel, reached by a cable car, avalanche patrolled but not pisted. It's supposed to be steep, long and great fun. Three or four of us middle aged guys at the party were keen to demonstrate our continuing manhood on it, but in the end we decided it would be unsociable, and we should do something else instead that was fairer for the non-skiers (and for the skiers with nothing to prove, such as our wives).
Mittenwald also has the Kranzberg, a small foothill of the Wetterstein that has some ski runs. The Kranzberg is reached from the edge of town via a little single-seater chairlift. The lift is old and slow, but on the leisurely journey you have plenty of time to admire the idyllic, gently rolling parkland that it passes over and the impressive view of the Wetterstein. It leads to to a toboggan run – ideal for the non-skiers – and an alleged ski run. Small children, sledges and snowboards (ideally not all at the same time) are carried on laps.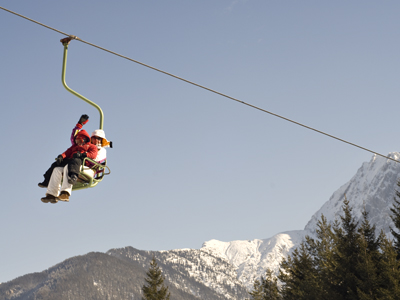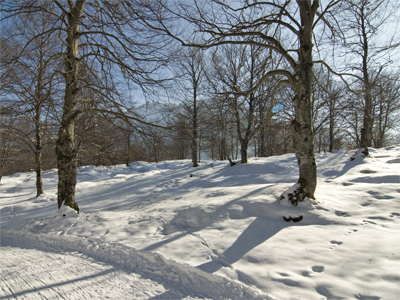 If you thought "idyllic, gently rolling parkland" isn't a landscape description you'd normally associate with a ski area, you'd be right. The blue run back to the chairlift is very scenic, but it is also the least downhill-sloping ski run I have ever seen. Probably great fun for lazy ski tourers, but not at all on a snowboard. The other (north) side of the mountain is somewhat more normal, with ski runs that actually go downhill most of the way, reached by a couple of quite steep draglifts. The runs are short but pleasant, and every snowboarder should practice draglift skills from time to time, however reluctantly – you never know when one of the accursed things might obstruct your path to an otherwise decent bit of mountain.
As I've said before, "if I've only been somewhere once, please assume that my rating is heavily biased by whether the snow there happened to be good or bad that day." It's hard to avoid having fun on a snowboard anywhere where there's half a metre of fresh snow by the side of the piste, and the piste-side snow last weekend at Kranzberg was lovely.
I found a(nother) website dedicated to quaint and obscure German ski resorts. Here's what they have to say about Kranzberg.
related entries: Snowboarding
back on the glacier
For various reasons – different interests and priorities, different group of friends – in the last two winters I haven't revisited any of the places I used to regularly go snowboarding back in 2000-2001 (apart from a single day at Waidring)
This weekend, though, I'm off with the family to the Stubai glacier, which used to be one of my favourite boarding spots. I'm excited to see how it holds up. Assuming it's glacier weather; you never know in the middle of March. At the moment the weather's mild, with wet, heavy, dangerous snow lower down, so a good time to go up high on glaciers. Towards the end of the week it's supposed to get colder again though. In which case there are plenty of other lower resorts in the area that I've never been to, and that would be good too.
related entries: Snowboarding
Hochfügen ☆☆☆
| | |
| --- | --- |
| Times visited: | once |
| Last visited: | January 2001 |
| Rating: | Good |
I only visited Hochfügen once, a long time ago, but I was impressed and I'm keen to go back.
The top of the ski area is a huge bowl of powder snow. It was when I went there, anyway, which was admittedly the day after a big snowfall. It's high up for a non-glacier resort (as hinted at by the name "Hochfügen") and generally has a reputation for good snow. There are also long, steep and interesting looking red and black runs down in the trees. And a lift connection over the other side of the mountain to the huge Hochzillertal ski area, which I've never visited but I suspect there would be little danger of running out of things to do.
related entries: Snowboarding
spitzing by bob
On Sunday I went snowboarding at Spitzingsee by train on the Bayerische Oberland Bahn. There's a lot to be said for not driving to the mountains. As with taking the bus, there's a minor amount of hassle getting self and gear to & from the station, but then you can sit and read or listen to music or sleep. And coming back in the evening when you're tired from a hard day in the mountains is a lot safer and more pleasant if you fall asleep on a train, than if you fall asleep driving on the autobahn. (My family don't really appreciate this benefit, since they listen to music or sleep anyway while I drive). Door-to-lift time to Spitzingsee for me by public transport is under two hours. Under an hour door-to-lift is theoretically possible by car, assuming no traffic jams, but assuming no traffic jams on a sunny Sunday after it just snowed for three days would be foolish.
I really don't fit the snowboarder demographic on the BOB though. The rest were teenagers on their way to Spitzingsee's "Burton Funpark". "Fun" meaning, in this case, terrifying-looking leaping around in the air. Tricks are for kids. It really struck me just how beautiful these young people are – these being, of course, fit, athletic young people cheerfully heading out for a day's play with their friends. My son, I found myself thinking, might be one of these beautiful young men in ten years or less, off in search of adventure with his friends. If he is, I hope the young women he travels with will be just as beautiful as the ones today. I also hope he'll be able to think of a way to impress them without risking his neck leaping around in half-pipes – which just means I'm finally beginning to understand how my climbing was for my mother.
I was just back from two weeks' family holiday, and I had decided to award myself a day of Me Time. Snowboarding alone has its disadvantages, though. It's not safe to do any kind of serious off-piste. The Bavarian avalanche warning service said the risk level below the treeline on Sunday was moderate, but avalanches aren't the only bad thing that can happen to the hapless lone mountain-goer. Not by a long chalk. Quite apart from danger, there's also the social embarrassment of looking like Johnny No Mates. But reality must be faced, and part of my current reality is that I do indeed have no mates near at hand who are able or willing to abandon their families at short notice for a day out in the mountains. I still had a great time. And next weekend I go out for my first ever serious off-piste tour with two of my middle aged dad mates – planned and approved by our wives long in advance.
Excellent Spitzingsee tip from my colleague Ketil: on a good day, when the main runs from the Stumpfling and Sutten lifts are sure to be unpleasantly crowded, take the old Taubenstein cabin lift up the other side of the valley instead. No lift queues, quiet pistes, better snow even. There's a nice little safe & easy powder slope to warm up on between the blue pistes on the Maxlrainer draglift.
related entries: Snowboarding
stallion's head
Do everything you fear
In this there's power
Fear's not to be afraid of
James, Sound
I feared the Rosskopf (Stallion's Head) draglift at Spitzingsee when I first saw it, almost exactly a year ago. Looking across at it from the top of the main chairlift, it looked to be the steepest and fastest draglift I had ever seen. So yesterday I went on it. It's ok. It is indeed very steep for a draglift, but it doesn't feel as fast as it looks and it's only short.
As it turns out, it's probably a good thing that the Rosskopf has an intimidating-looking lift. The top hundred metres or so of the unpisted black run down the front of the mountain are very steep indeed. In anything other than yesterday's perfect snow, it would be one of the hardest things I have ever done on a snowboard. Yesterday it was fun – just.
related entries: Snowboarding
letter writing generation
I think I just missed the tenth anniversary of my arrival in Germany. Kind of. Kind of not, because although I was actually in England on the day, one of the main purposes of my visit was to clear out some of the last vestiges of my presence in a country I have no great interest in ever returning to.
Much of today, then, spent in my brother's attic sorting through boxes, and discovering that hey, I belong to probably the last letter-writing generation. It's something I had completely forgotten about because I've hardly written any in the last ten years or more. But I turn out to have several shoeboxes full of ones people wrote to me back in the 1980s. And if people were writing to me, I presume I must have been writing to them too.
I remember thinking when I started using the 'net in the mid 90s, how much better email was for keeping in touch with old friends than a Christmas card once a year. In some ways it is. But there's a investment of effort and commitment in sitting down and writing four or five pages by hand, intended for and thinking of one person and that person alone, that just isn't there any more.
(Sarah suggested the other day that she didn't see me as entirely the right demographic for blogging about snowboarding. I presume I am, then, the right demographic for curmudgeonly blogging about obsolescent means of communication?)
living in fear
Still visiting family in England, and discovering what a dark and dangerous place the internet feels like these days to people who have Windows on their computers.
My parents have been intending for a while to get a new PC, and consequently didn't bother keeping up the maintenance payments on the virus software on the old one. Don't go on the internet, I am warned, the virus scanner isn't up to date. My brother had a virus outbreak on his PC, apparently, and prefers not to hook it up to the internet unless he has a pressing need to send an urgent email because, he says, he feels the need to run a full virus scan immediately afterwards.
Sometimes I'm so glad to be using a Mac.
related entries: Mac
all text and images © 2003–2010