alan little's weblog
Togliatti
| | |
| --- | --- |
| Times visited: | once |
| Last visited: | January 2005 |
| Rating: | hmm |
My wife comes from Togliatti, a city in the Russian steppes on the banks of the Volga. From, in other words, one of the least mountainous places in the entire world. It snows there a lot, though. And where there is snow, there are people wanting to slide around on it. To my not inconsiderable surprise, Togliatti has a ski area, situated in the woods where the banks of the Volga are a couple of hundred metres or so high.
I wouldn't have bothered, necessarily, but my wife's friend's teenage daughter and a couple of her friends wanted to try snowboarding, and it had been mentioned that I had done some, so I was appointed snowboard teacher for an afternoon. I think at the time this was my second day snowboarding in four years. But not to be too hard on myself – the quality of instruction those kids received was quite possibly better than nothing. About the same level, in fact, as I received from my friends when I started.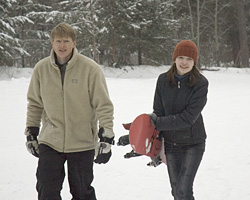 Togliatti is not – need I emphasise this? – somewhere to consider as a ski destination. But snowboarding is something to do for an afternoon should you for some reason happen to find yourself in town – and a good addition to my list of obscure and funky places I have boarded.
If teaching snowboarding to beautiful Russian women should become tedious for some reason, you can go cross country skiing in the woods with beautiful Russian women instead. As my son demonstrates here: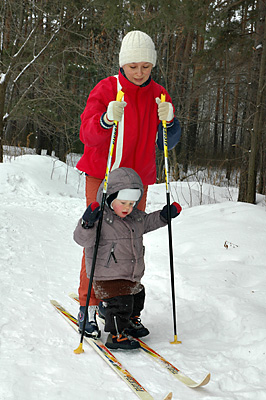 UPDATE 2nd February: we met up with an old friend of my wife in Mittenwald. She clearly hasn't been home for a while, because she was incredulous when informed that there is a ski area in her home town.
UPDATE II 6th February: good heavens. With a single bound, I leap to the top of a a google search results page.
related entries: Snowboarding
all text and images © 2003–2009