alan little's weblog
jack's mountain
The north east ridge of Jack's Mountain overlooks the hollow of the north face, whose steep headwall attracts adventurous winter sports enthusiasts. The ridge itself can be icy and difficult; the last time we were there we had to rescue a fallen climber. The north west flank is easier angled and more popular with the masses. The south and east slopes are thickly wooded; there is a path through the trees to the summit from the south east.
Jack's Mountain is about twenty feet high, and situated in the playing field at the end of our street. It's the most popular sledging slope in the area for parents with small children; the man from the city council comes in November and ties hay bales to the solitary tree at the bottom, then we wait for the snow to come.
When Jack's dad's foot slips, pulling Jack's sledge up the hill, does Jack's dad remember, briefly, the crunch of crampons on ice the year the northern lights came as far south as Glencoe? Does he find the sledge gathering momentum faintly reminiscent of how the snowboard felt, floating, the day after the storm with John, dropping off the end of the Hintertux glacier into miles of fresh untracked powder? (John has a baby daughter now too) He does.
But these things do not confuse him.
He knows Michael Smith is right and happiness, if it is anywhere, is Here and Now and not on some big hill far away in Scotland or Austria. Nothing ever was or ever will better than letting Jack ride on his own if the snow is fresh and soft, and running next to him to hear him laugh; or riding with him when it's icy and we have sneaked out for an illicit boys' night run on mum's yoga class evening, and one of us is slightly afraid of the rush in the dark but it isn't Jack.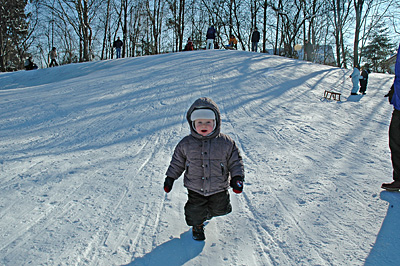 all text and images © 2003–2008